Liz Casals is Vice President of Consumer Insights at Lincoln Financial Group.
A self-described "lifelong researcher," Liz Casals was used to focusing her vision decades ahead. She's thrilled to have seen many of the things she'd hypothesized about at the turn of the century, such as mobile technologies and home connectivity, as well as the compression of timeline to insight, come to fruition. Two years ago, she joined Lincoln Financial Group as vice president of consumer insights. The view from the insurance behemoth was, well, different.
"I spent a good amount of my early career thinking about 20 years out," Liz says. "Knowing I was not there when I landed in insurance, I was really trying to figure out where exactly I had landed my first year at the company. And I decided it was somewhere in the early '80s. I was working with technical folks just trying to get data, realizing that they were working on systems my dad had developed in the late '60s and '70s. That's where a lot of our customer and policy data were sitting — in these really old and antiquated platforms. So this idea of analytics integration, more insights, was like, 'OK, take a step back, take a deep breath, that's not where we're at'. Not to mention that we're in the business of manufacturing insurance product. … It's like flipping everything you knew about market opportunity and market development on its head. Because, essentially, the construction of insurance product is, first and foremost, a risk management exercise."
The focus on risk management meant consumer research was not a big part of the product-management process. So Liz and her team set out to adapt to the culture and figure out where they could be useful and have an impact in an organization that didn't value research or consumer insights. She and her began by forming real relationships with "very resistant teams" in any way they could. Slowly but surely, they are succeeding.
"To be successful, it ultimately depended on relationships and the willingness to test and learn that led to the greatest breakthroughs," she says. "That process has been about moving further and further back in partnership with my product teams, into the development process.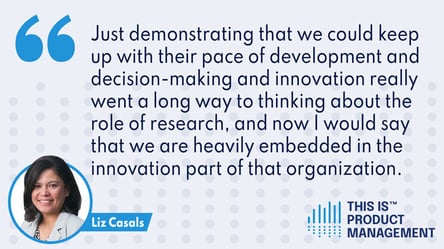 Learn more about Liz's journey to infuse research and insights into an old-line, regulated company, as well as her views on agile research and what it takes to succeed in the research field — plus her thoughts about Squid Game — on this episode of This Is Product Management.
Download the transcript of this episode here:
Here are the highlights:
What a consumer insights team does: 9:27
Overcoming resistance: 18:00
Defining agile research: 25:47
Inserting empathy and humanity into the process: 32:32
Recommended Episodes:

Subscribe now!
Get our new reports, case studies, podcasts, articles and events