Formerly the Chief Product Officer for Coinbase, Jeremy Henrickson is currently the Vice President of Product and Engineering at Rippling.
From his early days tooling around with his Apple II Plus, Jeremy has loved technology. But even more, he has loved figuring out how people interact around technology. It led him down a product leadership path, where he came to love figuring out how to build great products people truly love.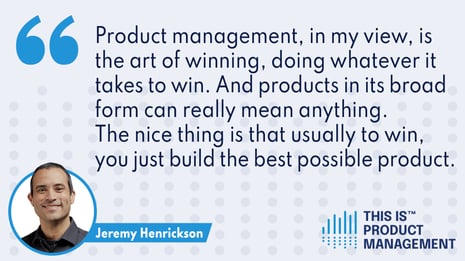 From growing the cryptocurrency giant that is Coinbase to the employee-management platform of Rippling, Jeremy has become expert at scaling Silicon Valley companies by building the right product teams.
"Humans are humans and they're the same no matter where you are. And so I think so much of the job of scaling a company, particularly through this phase where you're going from tens or low hundreds up to like a thousand, is about the community of people. Not everyone knows each other anymore and not everyone can pay attention to anything anymore. And there's just normal, repeatable human interactions to that set of problems, which are solved in very similar ways for the most part."
Jeremy has had an incredibly impressive career in product management and leadership. Learn more about the secrets to his success — from systemizing everything from interactions to energy, to hiring smart from the get-go, to iterating, to staying close to your customers — on this episode of This Is Product Management.
Download the transcript of this episode here:
Here are the highlights:
The importance of iterating: 9:23
How to create a "compound startup": 12:12
Communicating with founders: 18:29
How to scale your team: 20:19
Recommended Episodes:

Subscribe now!
Get our new reports, case studies, podcasts, articles and events