Carey Jenkins, CEO of Substantial, a digital innovation and build studio in Seattle, talks about embedding ethics and integrity into product development, as well as how to create a transparent, ethical ecosystem.
Carey Jenkins believes companies should serve their customers in a way that is ethical and responsible. To that end, as CEO of digital innovation and build studio Substantial, she works with diverse clients to embed ethics and integrity directly into their product development — and she ensures them they can do this without sacrificing innovation or speed.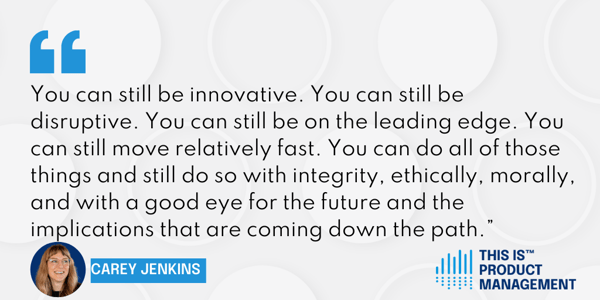 At the heart of creating an ethical product is a focus on being transparent to all the users in your ecosystem. Ensuring you are being honest with your stakeholders at every level isn't always an easy process — but it's something that needs to be done.
"If there's a part of your strategy you don't want to share with other actors in your ecosystem, you're probably hiding something," she says. "It's a question that when it gets asked in a room, there's a whole lot of hesitation. Let's live in that. Live in the uncomfortableness of the responsibility we have as technology creators."
Learn how Substantial works with companies to create more ethical products — and why Carey thinks product managers have a responsibility to take on the mantle of ethical product development — on this episode of This Is Product Management.
Here are the highlights:
How health-tech companies get it wrong: 9:22
The power of product managers: 14:37
Avoiding blind spots through diversity: 16:37
The difference between compliance and ethics: 22:53
Recommended Episodes

Subscribe now!
Get our new reports, case studies, podcasts, articles and events