Dave Carruthers is CEO and founder of Voxpopme, a video survey and feedback company.
A fairly new American transplant from his native England, Dave Carruthers isn't afraid of a little tension. But as the CEO and founder of Voxpopme, a video survey and feedback company, he also knows just how to avoid it inside companies: "Bring data to that conversation, because tension is usually created when you've got multiple opinions. In too many companies, the loudest voice in the room wins that conversation," he says.
How does he suggest you avoid letting the loudest voice win? Like all great researchers, Dave's goal is to infuse the voice of the customer into brand decision-making — and diffuse the tension caused by unsupported, non-humanized data.
"How do we bring that customer in and really understand what they think about that topic and that issue? That's where we're really helping brands," he says. "The reality is that the hard data, the numbers, the ones and zeroes, talks very much to the rational side of the brain, but it often skips over the emotional connection, any empathy we might have, and that's a huge part of our decision-making process. Where we see people use our kind of consumer videos and feedback videos really powerfully is when they're combining it to tell a story. They're bringing hard data, numbers, graphs, charts, trends, etc., and they're bringing that to life with the voice of the customer. They're bringing that empathy, they're getting to the 'why' behind that, because a lot of the time … when you try and peel the layer on that first onion, you find out there's not really much knowledge behind any of the why."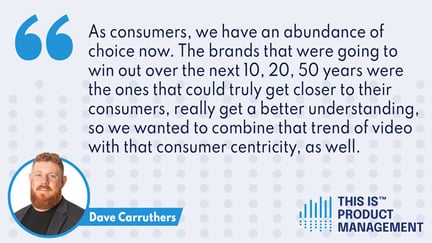 Dave also isn't afraid of talking ROI when it comes to finding the "why." He's got an easy answer for the classic financial pushback against doing meaningful research, whether by video or other means: "When I think about the ROI of research I think about, 'Well, what is the cost of a mistake?' … If you go functional on ROI, it's kind of like, 'Yeah, I get it, but it's not that impressive.' If you go more holistically, 'What's the brand reputation dimension? What's the cost of a bad decision?'"
Learn more about Dave's insights on fomenting customer obsession throughout an organization, combining the trend of video with that of customer centricity — and even Weezer's Blue Album — on this episode of This Is Product Management.
Download the transcript of this episode here:
Here are the highlights:
Harnessing the voice of the customer: 13:09
Humanizing data: 16:46
The ROI of research: 23:22
How researchers can get what they need: 26:03
Recommended Episodes:

Subscribe now!
Get our new reports, case studies, podcasts, articles and events